Gear Built with intent
We cut our teeth in the wild where product dreams and improvements are hatched. It is simply not enough for our gear to survive industry standard fatigue tests; our gear must prove its worth on the trail.
Adjustable Axle to Crown
Fit your fork to suit your style and frame. From your Dirt Jumper to Bikepacking Rig, and everywhere inbetween.
Built for the Backcountry
We design components to solve real world needs. Our gear is uncompromising because we ride in uncompromising conditions.
Components for an Adventurous world.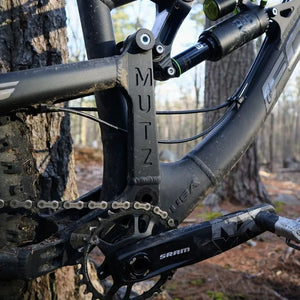 Dan Mutz, Developer of Foes Mutz
"I've been lucky enough to ride all of the fatbike suspension options out there extensively. Wren fits my riding style the best.

In the summer, it's more aggressive. It manages bigger hits higher in its travel, and always seems ready for things to get nastier.

Winter is where I like it even more. It's the most tuneable, customizable fork in existence. For winter, I keep mine at its max axle to crown (which is also adjustable), but limit the travel to 120mm. This way I keep the geo I like, but the studs don't shred my handlebar mounted, $1200, -40° sleeping bag before ramping out.

I love that I can mount racks on the uppers and they stay stationary while the wheel is free to move throughout the travel. Even cooler, I have three different dampers I drop in. Pre-bled 1wt, 3wt, and 5wt for different seasons.
Thing's like the Legos of suspension. Make it whatever you want! 👍
Lei's Audio Journal.
"When you're out there doing a 1000 mile adventure in the middle of nowhere, the last thing you want to worry about is if your gear is up to the task."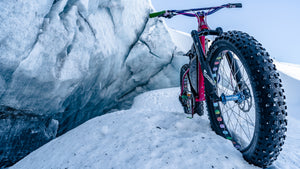 Alaskan Glacier Fatbiking.
How do we know our suspension performs in the cold? We explore some of the world's wildest cold weather environments.
Take a ride to a Glacier
The Wren 150mm Boost Fork is better than finding money in the pockets of old jeans you haven't worn since they fit before COVID. Imagine if Doc Brown did the flux capacitor thing to a Sherman tank... that's my On One with this fork.
- Brian E.
Wren Customer Service is legendary. Kevin and Russ are always at the ready and genuinely care.
- Nannie M.
Just installed our first Wren Inverted Fork. The fork is well built and the dual air chamber system is easy to setup.
- Ottalaus Cycle and Repair